What people are saying
"LIFE CHANGING!!!"
"Magical supplements"
"I don't have cramps for the first time since highschool!"
Totally amazed!

I just started taking soothe a week into this months cycle. Today is my first day of my period and it has been soooo different. I usually bloat so bad and have cramping and back pain and I felt none of that!!! Which is such a blessing because I am traveling today and on a plane and it's not even bothering me 😭❤️ I never thought a travel day on the...
MAGICAL✨

The most amazing product! I just got off the pill 2 months ago and have been using this everyday since. I was nervous about my periods being tortuous, my acne returning, my mood, etc, but I haven't suffered any of that while being on Soothe!💖 cannot recommend it more!
This is GOLD!

I just got my period back after less than 2 months after quitting hormonal BC (had not had a period in over 3 years) and it has NOT come back with a vengeance.. soothe has made this transition SO much easier and faster than I could have imagined. Thank you Maddie for this supplement, your podcast, and all the educational information that you share daily…
Love love looooove it!

Started Soothe about a month before going off hormonal contraceptives (been on it for nearly 10 yrs non stop). Now a month later, I not only got my period back, I also got a completely PAIN FREE period. No cramps, no bloating, no nothing 🙌🏼🙌🏼 and that has never happened to me before!! I mainly went on contraceptives to avoid the really bad cramps I would...
Lost without it!

I love it so much that when the shipment was delayed due to weather and I wouldn't have it in time before leaving on vacation I was panicked! Turned out I survived but I am again convinced that it helps my menstrual symptoms significantly. I used to have horrible bloating and insomnia the week prior to my period. During my period was painful cramping...
I cannot say enough good things about it.

I came off the pill at the end of summer 2021 and it showed up on my face with bad hormonal acne on my jawline & chin and painful cramps. I started taking Soothe sometime in the fall and it's helped so much! It naturally took my body a little time to adjust and it took a little longer for my acne to...
Soothe, the best natural herbal remedy for PMS
Soothe your hormones, irritation, and body pain by taking the best supplement for PMS!
Soothe contains about one cycle's worth of formula, or about 30 days.
SERVING SIZE:

2ml
SERVINGS PER CONTAINER:

29.5 Servings
TOTAL ML:

59ml per Container
A CONTAINER OF SOOTHE CONTAINS THE FOLLOWING HERBS AND INGREDIENTS:
Chaste Tree Extract(Vitex agnus-castus)
Bupleurum Root
Orange Peel
Dandelion
Dong Quai Root
Chinese Peony Root
Ginger Rhizome
Raspberry Leaf
Poria Sclerotium
Licorice Root
OTHER INGREDIENTS:
Distilled water
Organic sugar cane ethanol
Organic vegetable glycerin
By taking our Soothe herbal formula for PMS, you can trust that your body will accept nature's healing powers and prevent your monthly PMS and period pains. Message us on Instagram if you have any questions!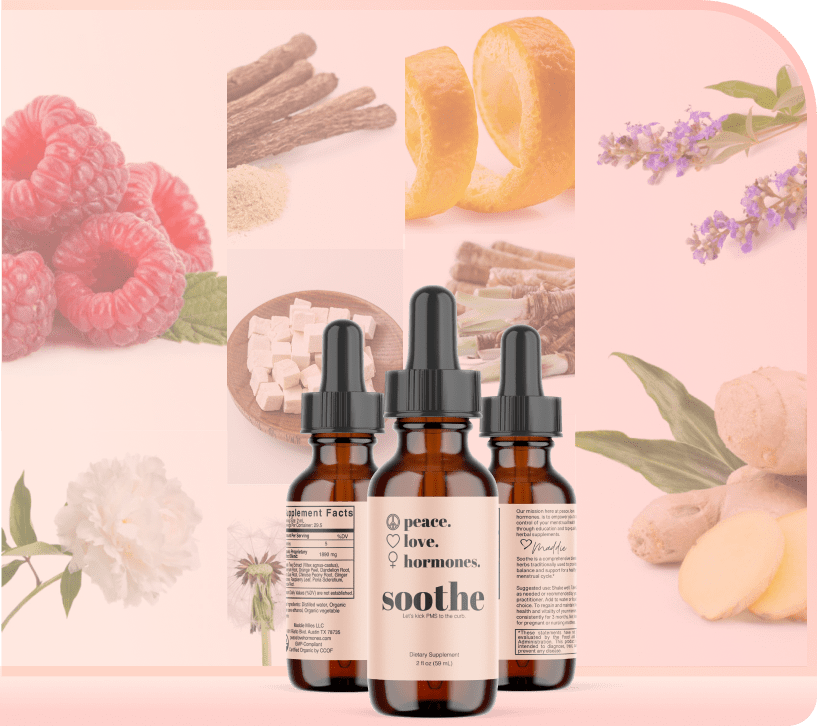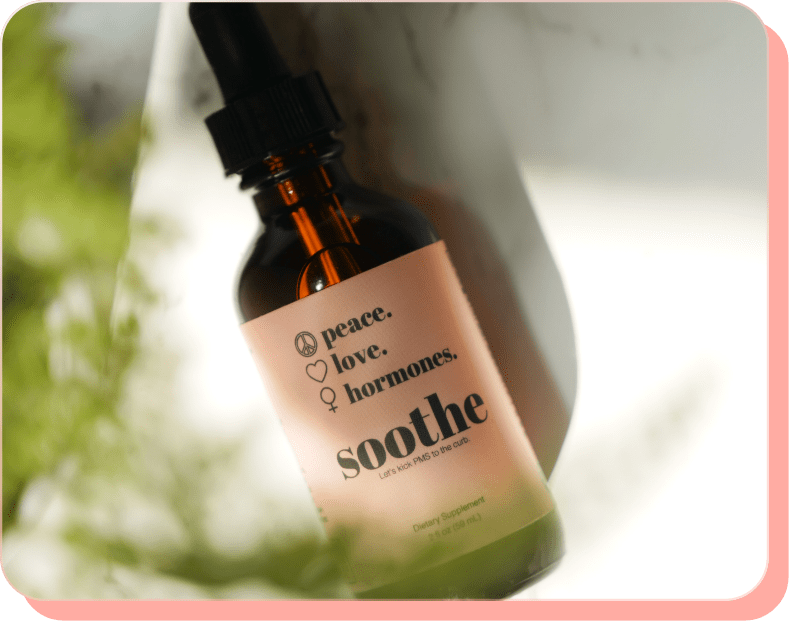 Soothe your PMS with the ancient wisdom of our herbal formula
Take Soothe to strengthen the health and vitality of your entire menstrual cycle and overall reproductive health
PMS may be common, but it does not have to be a given for you. We live in a world that is not the most supportive of our hormone or gynecologic health. Luckily, we have plants and herbs to help get our health back on track. Alchemy and magic are vital components of herbalism. Herbalism is truly the source and center of medicine and healing for women and those with menstrual cycles. We advise you to take Soothe daily, as instructed on our bottle or by your health care professional, for at least 3 moon cycles for the best results.

Benefits you will reap from taking our herbal remedy:
Regular ovulation
A regular and healthy-for-you menstrual cycle and period
Clearer skin - less hormonal acne and breakouts
Diminishment of other PMS symptoms such as breast tenderness, mood swings, bloating, cramping, period pain, etc.
Information about the best herbal remedy for PMS
What you need to know about the best herbal remedy for PMS, Soothe
Herbal medicine is a vital part of healing from, and preventing, PMS and hormone imbalances, along with proper nutrition, phase-specific exercise, and other natural modalities of healing that your body and spirit desire. Adding herbalism into your daily life will dramatically decrease your pain and discomfort and to feel like yourself again. Plant and herbs are nothing new, in fact, they were the first and primary source of medicine for a very long time and the traditions have been passed down through generations.

We are excited to be on this exciting, life-changing, healing journey of yours!