Balance hormone levels with premenstrual syndrome treatments
Keep track of your cycle and integrate them with premenstrual syndrome treatments
Keeping track of your menstruation can be hard. There are times when you get surprised by the sudden visit and get caught unprepared. You will realize all the symptoms when your period is already here. This is why a cycle syncing book, like Hormone Harmony, is important to keep track of your menstruation and take your natural premenstrual syndrome treatments on time. Hormone Harmony EBook contains a detailed calendar to help you keep track of your menstruation. This calendar is not only used to know when your period will start but also help you plan your routine and meals ahead of time.
What's included in premenstrual syndrome treatments?
Heal your body and hormones the right way, naturally and holistically
Our Hormone Harmony Ebook is designed to help you understand the hormonal changes and be more proactive in balancing your hormones. Premenstrual syndrome treatments can easily be integrated into your daily life based on your cycle. Included in the Hormone Harmony Ebook is:
Mood and menstrual cycle tracker
Detailed food charts and grocery lists
Easy to follow plan to balance your hormones
How to get the right food and supplements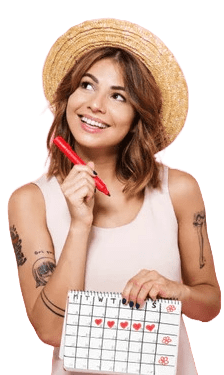 How premenstrual syndrome treatments can help you
Everything you need to know about natural premenstrual syndrome treatments for balanced hormones
Purchase the Hormone Harmony EBook and let us help you plan a cycle syncing food chart to start healing your body and hormones. Plan your daily meals for a more natural and healthy way to maintain the ideal hormone levels in your body! This informative eBook contains everything you need to know on how you can prevent any hormonal imbalance which commonly occurs before and during menstruation. We put together a menstrual cycle tracker so you can match your life with your cycle and be more in tune with your body. Included in our cycle syncing book are easy-to-follow food and grocery lists to help you maintain a healthy body and mind during specific phases of your cycle. Book a consult for an individualized health plan!